Date Stamps For All Personal and Business Needs!
Professional and Efficient Date Stamps from Addprint Rubber Stamps
Date stamps are an incredibly convenient appliance, whether you're a small business owner, operating a larger company, or just want to improve your organisation.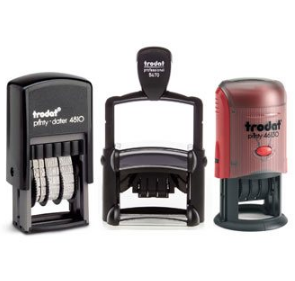 We are a proudly Australian owned business with Australian made date stamps! We offer a wide variety of these self-inking stamps to suit your needs, preferences, and budget. With movable bands for day, month, and year, these stamps are affordable and will accommodate you for years to come!
Customisable Options
Here at Addprint Rubber Stamps, we maintain stocks from the leading brands of the industry, including Trodat, Colop, and Shiny. After selecting your brand, you're able to choose the size of the text, as well as the colour of the dates, with our colour options being black, blue, red, and green. You can have your stamp be one colour entirely, or multicoloured with the dates and additional text being different colours if you want any text emphasised or separated.
We even offer date stamps that produce different shapes. Not only can you buy them in different sizes, but also in the shapes of rectangles, squares, and circles!
These stamps also have the option to include customisable text. This allows you space to add one additional line, or even as many as ten lines, of the text of your choosing. There are several things that our clients will choose to have included on their stamp, such as-
• Company Name
• Address
• Order No.
• Received
• Request to Sign
• Country
• Contact Information
While these options may be among the most popular, you can customise your stamp with whatever text you'd like that would best suit your needs!
Why Use Date Stamps?
As an organisational tool, date stamps are efficient, convenient, and reliable. They add a professional touch to documents, letters, and deliveries. With our numbering stamps, you can improve your ability to keeps track of shipments and invoices.
Our stamps are manual, easy to use and fit neatly on any desk, shelf, or drawer. Their sleek design matches their proficiency and professional appearance!
Suitable For All Businesses
Date stamps are convenient for those who work at all levels and departments. They add professionalism to work completed at home. They can spread company information for small businesses when used for letters and documents. Date stamps are also considered to be an important addition to any factory environment, as it improves managing and organisation.
Prices For All Budgets
With our options in stamp type and size, you'll be able to select a date stamp that's within your budget. Our prices range considerably, with some over $100 and some below $20.
This entirely depends on the customisable options. If you intend only to purchase a stamp with the date on it, without these other optional features, then you can expect a very affordable purchase. Increases based on whether you want to include your company name, address, etc. are reasonable and incremental.
Regardless, we guarantee that our Addprint Rubber stamps are all high quality, sturdy, and ready to be used no matter their price, brand, colour, or customisations! Simply select and customise the date stamp of your choice and get started.
Order Yours Today!
If you think a date stamp is what's right for you, your employees, home office, factory, or small business, you can make an order in a few easy steps on our website now. Purchase your own individual stamp, customise one as a gift, or even buy some in bulk to stock your office and take another step in ensuring an efficient and organised work environment!